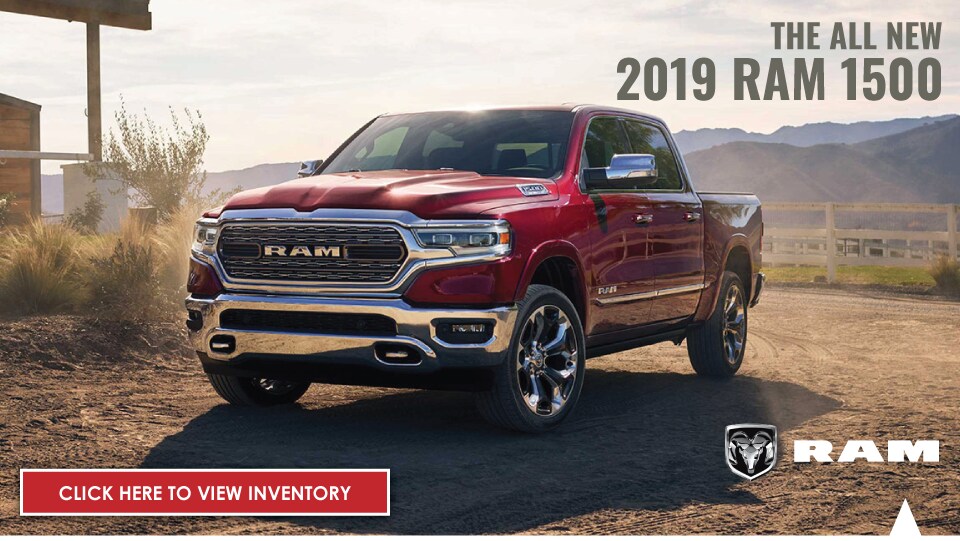 The all-new Ram 1500 was built so people could serve something greater than themselves - their responsibilities, their passions, and their challenges. The heart, the soul, and the passion engineered into every detail of the new 1500 was done for a single purpose - so our customers can keep their word to those who depend on them.
Accomplish It All in the 2019 Ram 1500 from Shelbyville Chrysler Dodge Jeep Ram
Nothing beats the satisfaction of checking off the items on your to-do list one by one. The sense of accomplishment you feel is rewarding because confidence and productivity go hand in hand. The 2019 Ram 1500 is a clear-cut example of this capable combination. Operating such an expertly-crafted Ram truck will only bring a sense of efficiency and assurance to your working style. The best part? This routine-changing truck is right down the road in Shelbyville, KY.
There's a lot to talk about the latest Ram 1500 model. From its size and the dimensions of its cargo bed to the degrees of capability relating to towing and payload, technology, and safety, you'll see why the way you work will change forever after this tough truck enters your life. Finally, you'll find out about the set of trim levels Ram crafted for the 2019 model. With so much to learn about this truck, you'll leave feeling like an expert on all things 2019 Ram 1500 and be ready to commute from Lyndon to our Midland Trail location.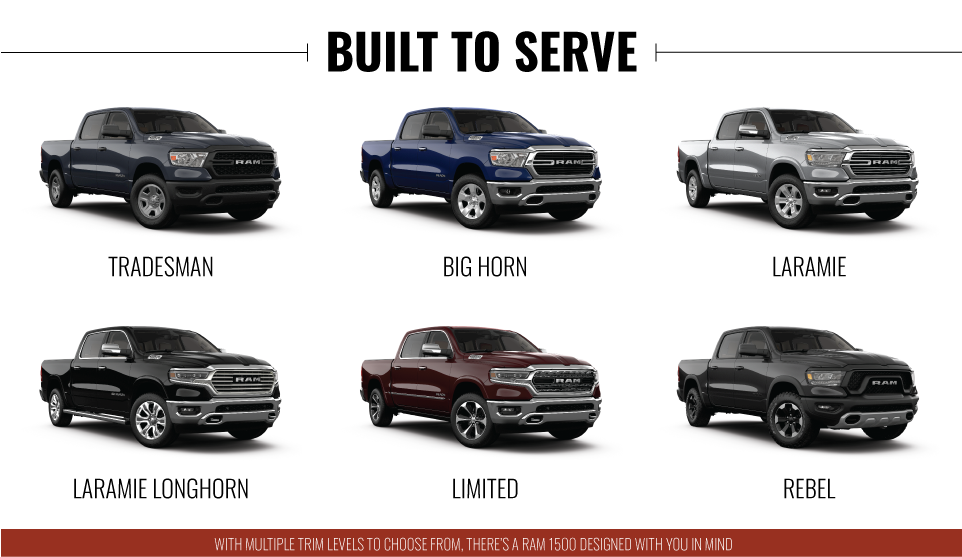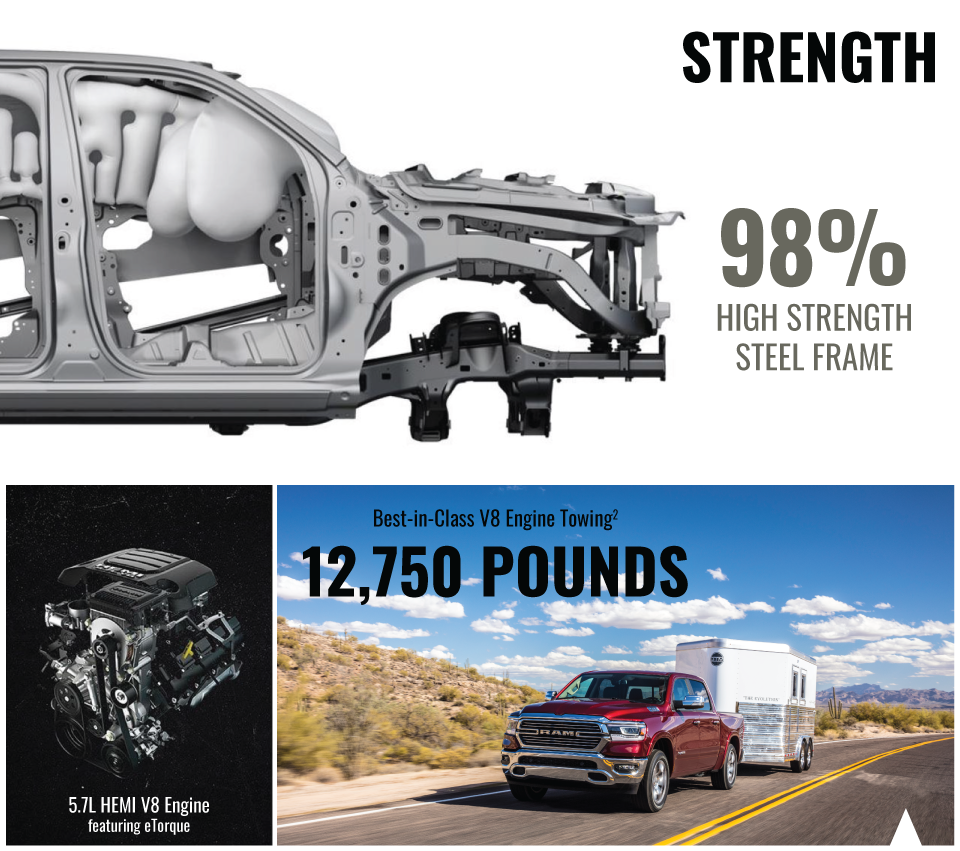 Just because the 2019 Ram 1500 has been redesigned from the ground up, it still retains the same strength you've come to expect from a Ram truck. Utilizing a high strength steel frame, the 2019 Ram 1500 boasts a monstrous 2,300lb payload capacity. Coupled with the available Class-Exclusive(1) Active Level Four Corner Air Suspension with automatic load leveling, you can tow and haul with confidence.
Overview of What to Expect in the 2019 Ram 1500
Ever since making its grand entrance into the automotive market, the 2019 version of the Ram 1500 quickly proved that it's different from its many predecessors. It showcased that in addition to serving as a strong towing solution, it also has a family side displaying safety, technology, and comfort amenities to make it an enjoyable ride for passengers as well as drivers. The 2019 Ram 1500 has driven away with many awards since its debut, including Motor Trend 2019 Truck of the Year and becoming the official Truck of Texas as decided by the Texas Auto Writers Association.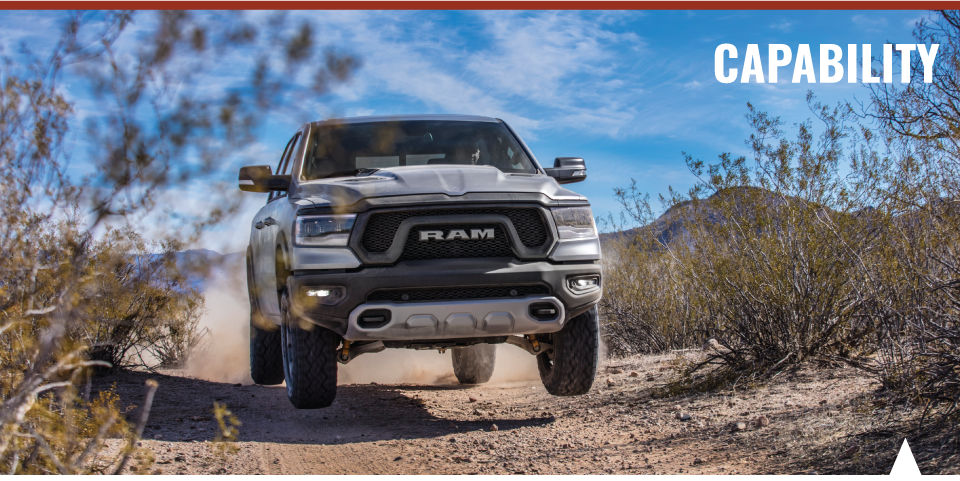 Go places you never thought possible with the 2019 Ram 1500. Where you're going, you don't need roads. Between the updated Ram 1500 Rebel® and the 4x4 Off-Road Package available on all 4x4 models (standard on Rebel), you're more than ready for any off-road adventures. With improved aerodynamics and active-grill shutters, you can go even further knowing this beast of a truck is as efficient as possible.
The Size and Capability Behind the Newest Ram 1500 Truck
There is a surplus of confidence in the highly-recognized Ram 1500 truck that stems from the expertise in how it was crafted from the inside out. The high-strength exterior foundation makes for an increase in towing and payload, while its luxurious two-row interior leaves occupants in a state of relaxation and pleasure. Instead of being left wanting more in the 2019 Ram 1500, you'll be satisfied by the impact of being a more confident driver who can handle whatever task lies ahead.
Truck Size and Cargo Bed Dimensions
Let's start with the convenient size of the 2019 Ram 1500 cargo bed. There is an impressive 61.5 cubic-feet of volume for loading and securing your heavy-duty materials that can weigh up to 2,100 pounds to take advantage of the maximum payload limit. The truck itself lands at 77.6 inches in height and 228.9 inches in length. The 2019 Ram 1500 sits at a ground clearance of 8.4 inches and exhibits of a wheelbase, defined by the distance between the front and rear axles, of 140.5 inches. Overall, the 2019 Ram 1500 is massive truck ready to take on huge responsibilities.
Towing Capability in the 2019 Ram 1500
Three engines appear for the latest Ram 1500, and each one specializes in a different area of performance. If you want the maximum 12,750 pounds of towing, choose the 5.7-liter HEMI® V8 with the eTorque Mild Hybrid System. The same engine without eTorque exhibits a slightly lower towing capacity, but still matches the 395 horsepower and 410 pound-feet of torque. The third engine, a 3.6-liter Pentastar® V6, demonstrates the highest efficiency with up to 25 mpg on the highway. The capable TorqueFlite® eight-speed automatic transmission is a standard partner with all three powertrains.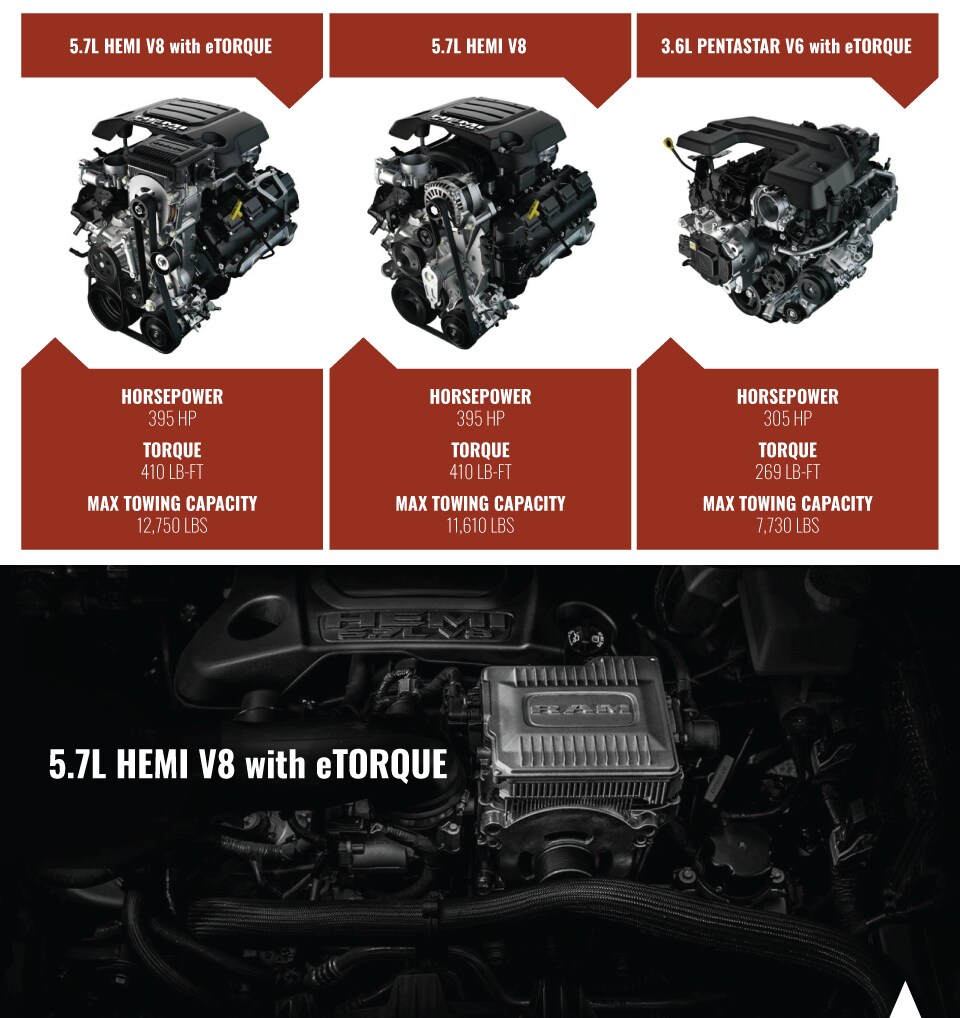 The available revolutionary eTorque mild hybrid system replaces the traditional alternator on the engine with a 48-volt battery-powered, belt-driven motor generator that improves performance, efficiency, payload, towing capabilities and drivability.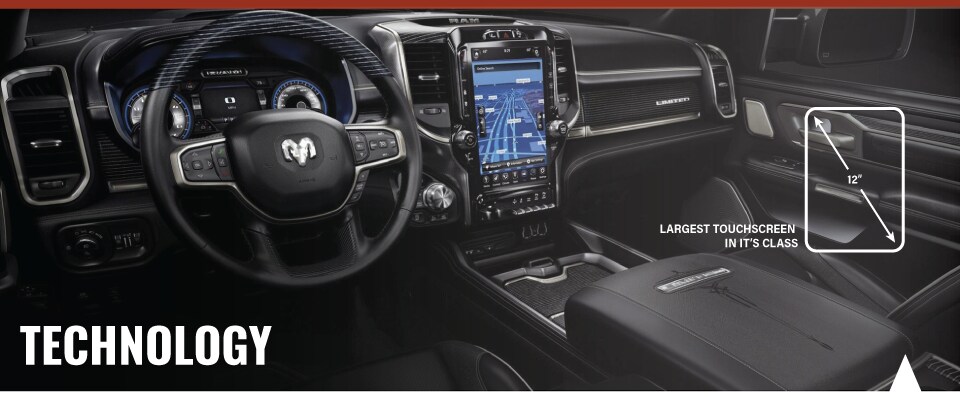 The 2019 Ram 1500 sports one of the most technologically advanced interiors in any pickup(2). With the newly designed 12-inch touchscreen and UCONNECT 12.0, state-of-the-art tech and device connectivity, you'll enjoy a driving experience unlike any other. Beyond the obvious technology upgrades, premium leather appointments can be found throughout the cabin. The 2019 Ram 1500 has 58% more leather than Ford or Chevrolet(3).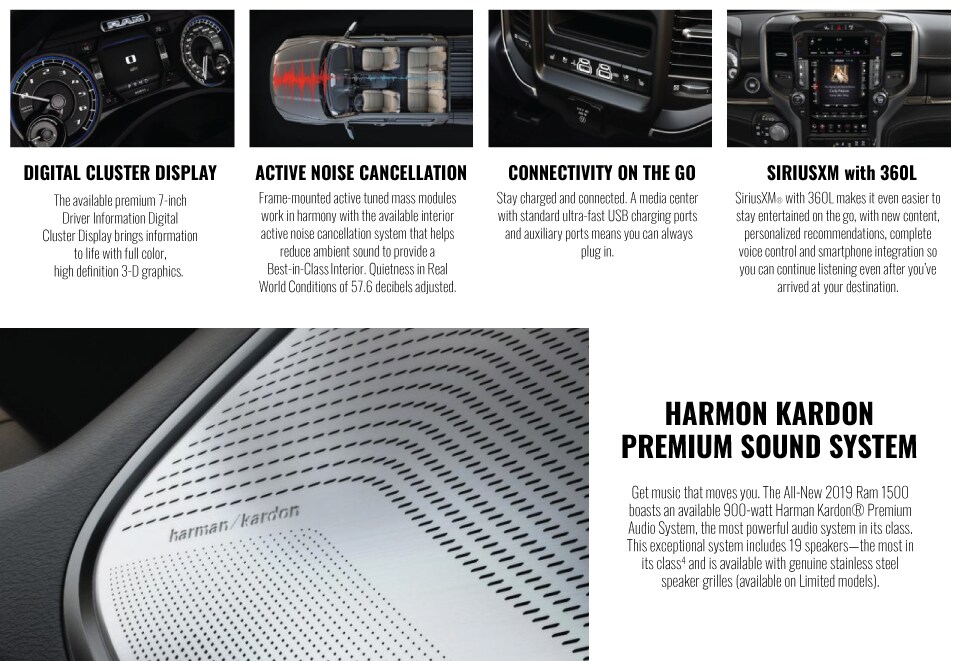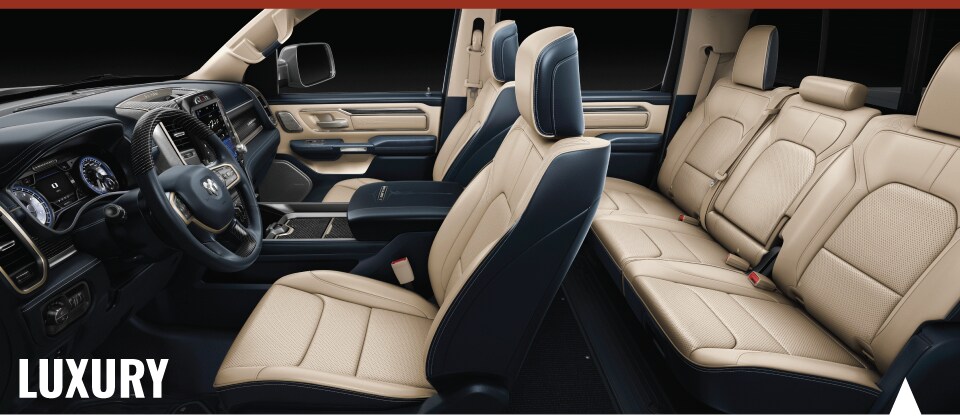 Lighter, longer and wider, including an overall crew cab length increase of four inches, the All-New 2019 Ram 1500 features our most spacious interior yet. Each model comes with its own set of distinctive colors, premium materials and interior details. Explore the possibilities. Marvel at the attention to detail. Customize as you see fit. Discover the right cabin for you.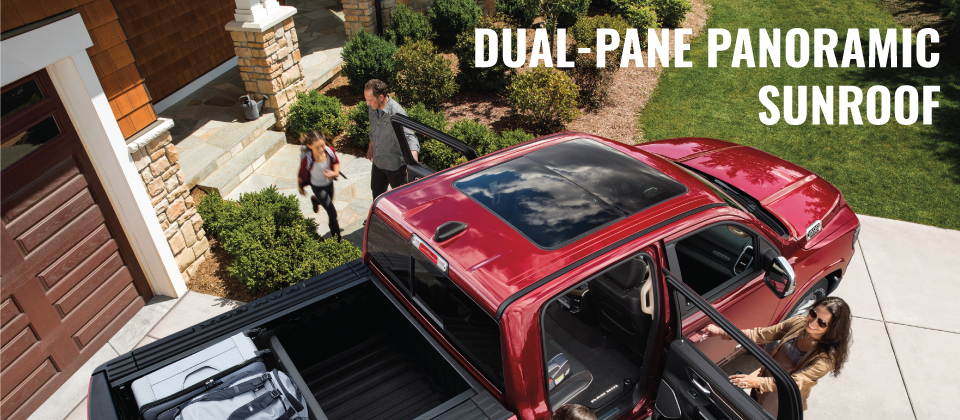 Passengers enjoy Class-Exclusive features like a rear seat fold-down center console, available reclining rear seats with eight degrees of slide recline and rear seat ventilation, as well as 45.1 inches of rear legroom.
Capabilities of the Truck's Tech and Safety
You can equip the dashboard of your 2019 Ram 1500 with a 12.0-inch Uconnect® touchscreen display featuring a split-screen function you can customize. This touchscreen size is a largest-in-class asset that only offered by the Ram brand.
Your music will reach new heights with the optional Harman Kardon® Premium Audio System that features 19 speakers spread out inside the Ram's cabin. Thanks to the Active Noise Cancellation system, exterior sounds will be kept out, and your favorite sounds will stay inside.
Supporting Apple smartphones via Apple CarPlay® along with the Ram's two fast-charging USB ports work together to promote a constant connection between you and your favorite devices while on the go near Louisville.
There are over 100 features tied to safety and security that you can personalize your 2019 Ram 1500 with for higher awareness while driving, parking, towing, and reversing. A couple of examples include Blind Spot Monitoring and Parallel and Perpendicular Park Assist.
The inside of the 2019 Ram 1500 is surrounded by six standard airbags while a high-strength steel frame encases the exterior. The largest-in-class 14.9-inch brakes provide the power you'll need to come to a safe stop in your 2019 Ram 1500.
Choose a Ram 1500 Trim Level Near Jeffersontown, KY
When Ram crafted the 2019 version of the popular 1500 truck, it created six exclusive trim levels to fit the preferences of its biggest fans. While the basis of each model is the same, the differences lie in the level of interior design, the degree of technology, and instilled safety features. You can find out a little about each trim in our online Ram inventory at Shelbyville Chrysler Dodge Jeep Ram.
Ram 1500 Tradesman
Ram 1500 Big Horn/Lone Star
Ram 1500 Rebel
Ram 1500 Laramie
Ram 1500 Laramie Longhorn
Ram 1500 Limited
Carve Out Time to Meet with Our Shelbyville Team Today!
We want our Kentucky drivers to have total confidence while casually driving, hooking up a trailer, parking, loading up cargo, or hauling a heavy load. You'll have the assurance you need with the 2019 Ram 1500. You can browse the model's trims, learn more about the advanced features, and make the leap to reserving a time to fire up the 5.7-liter HEMI® V8 engine at the start of your test drive. Contact a Ram expert and let us know a day that works for you to come by. We can hardly contain our excitement about showing you our facilities and introducing you to the new 2019 Ram 1500 - 20 minutes away from Taylorsville, KY!